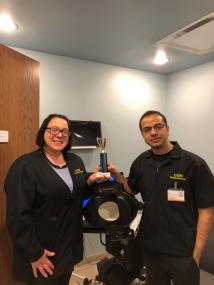 The ERG Team of Wanda Pfeifer and Sajag Bhattarai are the December Employees of the Month. Please see their nomination below:
I would like to nominate the ERG service, Wanda Pfeifer and Sajag Bhattarai, for employee of the month. Wanda and Sajag are the major reason we have one of the very best electrophysiology services in the country, especially for children. Wanda and Sajag always do an outstanding job for the electrophysiology needs of our department and they went above and beyond for our patients and staff during a short-staff situation.
Thank you to Wanda and Sajag. Thank you again for the multiple nominations received. We will be highlighting a service in lieu of an Employee in January.